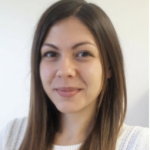 Marie-Line Dubois
Michel Bertrand MMSDG Award, Ph.D. candidate in Anatomy and cell biology, Boisvert Group, Université de Sherbrooke
Systematic and quantitative identification of the proteome modified by the DDB1-CUL4 ubiquitin ligase
Abstract
Ubiquitin is a post-translational modification that can modulate the localization, the interactions or the stability of proteins. The further understanding of processes that regulate its activity is important in view of their significance in numerous diseases.
Our studies focused on proteins associated with the DDB1-CUL4 ubiquitin ligase complex. We identified the interaction partners of DCAFs proteins (proteins responsible for substrate recognition) using affinity purification (Bio-ID) and mass spectrometry. We also used a new SILAC-pulsed approach to identify the degradation targets of each of these 60 DCAFs.
Our work also led us to identify a new variant of ubiquitin that is not involved in targeted proteasomal degradation. Protein substrates are easily identified by mass spectrometry since acceptor lysines are modified with a di-glycine remnant following tryptic digestion and can be purified by immunoaffinity purification. This discovery opens up new possibilities in the field of post-translational modifications.
Biosketch
Marie-Line Dubois in presently completing her doctoral studies in cell biology with Pr. Francois-Michel Boisvert at Université de Sherbrooke. Her work led to the identification of proteins associated with CUL4-DDB1 ligase that regulate their activity and affect interactions with DCAF substrates. Her work also uncovered a new ubiquitin variant expressed by a pseudogene, and facilitated the identification of protein modified by this variant. She is the recipient of the NSERC Alexander Graham Bell Graduate and FRQ Scholarships, and other awards including most recently best presentation at the Symposium Signalisation Québec 2018.
Date
Date(s) - November 6, 2018
6:00 pm - 9:00 pm
Emplacement / Location
Morris and Rosalind Goodman Agora