Tuesday January 16, 2018 – André Lajeunesse, Ph.D.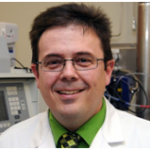 André Lajeunesse, Ph.D.
Professor Dept. Chemistry, Biochemistry and Physics
Universite du Quebec a Trois-Rivieres
Detection of GHB in human hair using HILIC chromatography and tandem mass spectrometry
Abstract
Forensic sciences sometimes encounter problems in detecting an absorbed substance due to its rapid metabolism which leaves limited traces in biological matrices. This is the case for g-hydroxybutyric acid (GHB) which is rapidly degraded and only leave a short detection window in blood and urine.
This presentation will highlight the analytical benefits of hydrophilic interaction chromatography (HILIC) combined to mass spectrometry for the detection of GHB in human hair. An approach is proposed to use metabolic profiles to discriminate endogenous concentration of GHB, and normalize the corresponding signal in different hair segments
Biosketch
Since 2012, André Lajeunesse is a professor at the Department of Chemistry, Biochemistry and Physics at UQTR in Trois-Rivières, where he also heads the forensic sciences group. He received his Ph.D. in chemistry from the Université de Montréal under the supervision of Professor Sébastien Sauvé and his Masters in Experimental Sciences of Health (INRS / Institut Armand-Frappier) with Professor Christiane Ayotte.
Dr. Lajeunesse, has more than 15 years of experience in chromatography and mass spectrometry. His expertise is applied to different research projects involving forensic toxicology and forensic environmental chemistry. He is currently a regular researcher at the Laboratory of Criminalistic Research at UQTR and at the International Center for Comparative Criminology (CICC).
Date
Date(s) - January 16, 2018
6:00 pm - 9:00 pm
Emplacement / Location
Morris and Rosalind Goodman Agora
Groupe de discussion en spectrométrie de masse de Montréal (GDSMM)
Le groupe de discussion sur la spectrométrie de masse de Montréal (GDSMM) est un organisme à but non lucratif qui offre un forum favorisant les interactions locales, nationales et internationales entre les scientifiques oeuvrant en spectrométrie de masse. Le GDSMM organise des séminaires scientifiques et des forums de discussion présentant les derniers développements en recherche fondamentale et appliquée en spectrométrie de masse. Une réunion annuelle du GDSMM qui regroupe les étudiants et les post-doctorants a lieu à Montréal chaque printemps et offre une opportunité unique de réseautage en plus d'accroitre la visibilité et la sensibilisation aux contributions locales en spectrométrie de masse.
Montreal mass spectrometry discussion group (MMSDG)
The Montreal mass spectrometry discussion group (MMSDG) is a not-for-profit organization that provides a forum to promote local, national and international interactions among scientists involved in mass spectrometry. MMSDG sponsors scientific seminars and forums to present the latest developments in basic and applied research in mass spectrometry. An annual MMSDG meeting that regroups students and postdoc is held every spring in Montreal, and provide a unique networking opportunity to participants and enhance the visibility and awareness of local contributions in mass spectrometry.